---
The park's center of activity was at the present intersection of Tekoa, Loop Drive and Manito Place. Standing in that intersection facing north, around 1910, in front and to the left would be a little fenced pond (one of three naturally occurring spring-fed ponds in the park). In the pond was an island on which the "swan house" provided shelter for numerous species of waterfowl. Beyond that, the bear cages nestled up against the rock formations behind the present Park Bench Café. (In 1923, the duck pond was filled in to build the café.) Looking directly left, the monkey cages were in the foreground, and in the distance (on what is now Rose Hill), the elk and deer barn. Atop the hill directly behind our position in the intersection was the aviary – the Owl Castle. The Brotherhood of Owls donated the first owl. Straight ahead in the distance, the United States flag blows in the wind up on flag hill. To the right, the hill above the pond was an array of beautiful gardens, with a floral sculpture of the Masonic Lodge emblem as its centerpiece. On the next hill north, the bandstand was at a perfect location to broadcast the music over the activity below.

The present Rose Hill west to the Japanese Garden was the elk and deer enclosure. Parts of the rock wall enclosure still remain in this area. The enclosure extended north to the point Loop Drive skirts the crest of the hill, encompassing another small pond. Cages for the skunks, coyotes, bobcats and other smaller animals lined the area of the present rock garden bordering the rose garden. Ostrich, emu and kangaroo lived in the area of the present Japanese Garden, and buffalo roamed the current lilac garden.

Be sure to come back next week for more interesting information about Spokane's own zoo in Manito Park.

Manito Park: A Reflection of Spokane's Past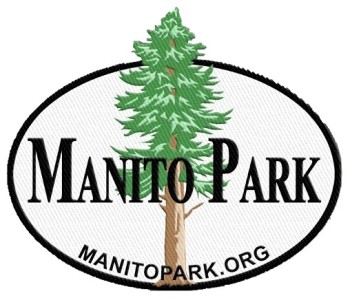 Manito Park Events and Information.
---
Get local information about events and happenings at Manito Park from the people who know it best - the local community.

Get helpful reports about park conditions, local weather, the park's newest enhancements, the status of flowering seasons.

Here at ManitoPark.org we want to bolster the Manito Park community and let others know about what's happening at the park.

We hope you enjoy this news report from ManitoPark.org. If you have suggestions on how to improve this site or Manito Park, click the contact link and complete the inquiry form, telling us how we can work to improve. Or just send us an email to: inquiry@ManitoPark.org. We'll take it from there.