---
We are closing our series of articles about Manito Park and have been listing the various venues of the beautiful park according to the book "Manito Park: A Reflection Of Spokane's Past" by Tony and Suzanne Bamonte of Tornado Creek Publications, Inc.

Today, we visit numbers 6 through 10:

6. LILAC GARDEN: The lilac garden was conceived in the fall of 1941 when the Spokane Garden Clubs presented 60 lilac bushes to the city. The garden, situated slightly southwest of the duck pond contains many varieties of lilacs, Spokane's official flower. Buffalo roamed this area when the zoo was in existence.

7. PICNIC SHELTER and PLAYGROUND: In 1961 the Spokane Rotary Clubs donated a large picnic shelter near the 18th and Grand entrance. It contained fire pits, charcoal grills and picnic tables. In the early 1900s, a channel of water from the present pond extended through this area to Grand. At that time, there were entrances to the park from Grand at 19th and 20th, and a baseball field north of 19th. The popular sledding hill is east of the shelter, adjacent to Grand. In 1998 an attractive and functional playground designed by Debbie Clem-Olsen, landscape architect for the parks, was constructed west of the shelter.

8. DUCK POND: The pond began as a larger body of water called Mirror Lake. The spring-fed lake was always a popular site for year-around activities. A basalt rock fireplace, built near the west end of the pond in 1955, is a memorial to Lt. Lawrence Rist, an Air Force officer killed in action during the Korean War.

9. PARK BENCH CAFÉ: Built in 1923, the "peanut shack" sold snacks for park visitors and peanuts for the monkeys. It is located at the intersections of Manito Place, Tekoa and Loop Drive, once the site of a natural pond. A private vendor sells refreshments during summer months.

10. LOOP DRIVE AND BRIDGE: A scenic route through Manito Park is open during the summer months. The arched stone bridge, built in the 1930s, reflects the architectural design of the early park buildings.

Manito Park: A Reflection of Spokane's Past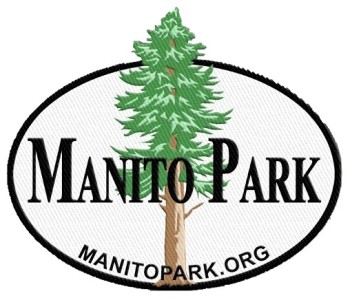 Manito Park Events and Information.
---
Get local information about events and happenings at Manito Park from the people who know it best - the local community.

Get helpful reports about park conditions, local weather, the park's newest enhancements, the status of flowering seasons.

Here at ManitoPark.org we want to bolster the Manito Park community and let others know about what's happening at the park.

We hope you enjoy this news report from ManitoPark.org. If you have suggestions on how to improve this site or Manito Park, click the contact link and complete the inquiry form, telling us how we can work to improve. Or just send us an email to: inquiry@ManitoPark.org. We'll take it from there.